Episodes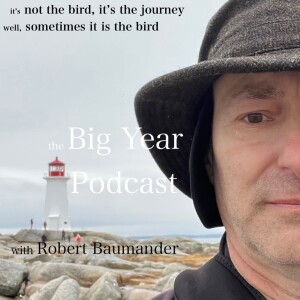 Friday Oct 06, 2023
Friday Oct 06, 2023
And a hearty welcome to episode 11 of the Big Year Podcast. I'm Robert. Baumander, and I'm your guide to the life of the big year birding experience. Late in the year 2011, which seems like a lifetime ago, I saw a little movie called, not surprisingly, The Big Year.
     One of my favorite actors, Steve Martin, was starring in it. I was also a fan of Jack Black and remembered him from way back when I saw High Fidelity. And who doesn't love Owen Wilson? So I told Sue that I'd like to see it and from the previews I just thought it was a buddy movie.
     Sue didn't let on that it was actually about birding or I may not have gone. But we did go, and I, like my guest, Kiah Jasper, was drawn into the prospect of doing a Big Year. Keep in mind, at the time, I was not a birder and had only ever used binoculars at the racetrack.  By the time the credits rolled with photos of all the birds and the Guster song, "This could all be yours someday," I was pretty much hooked. I remembered that Sue had the book, The Big Year, by Mark Obmascik, from the library, and I really hadn't given it a second thought. Now, I had to read the book. Well, listen to the audiobook. Even while listening to the book, I was secretly planning a Big Year.
     Not a full out ABA plus Attu, but a smaller Big Year, birding wherever I traveled across North America. I had a full time job with the Toronto Blue Jays,(oddly appropriate), that took up the majority of my year and my days. What could it hurt to do a little birding along the way? And maybe see, oh I don't know, 300 or so species as I learned how to bird and what it took to become a birder.
     The trouble was, and I really didn't acknowledge it at the time, I was suffering, or perhaps gifted with, Obsessive Compulsive Disorder. On a January trip to California, my guide Eddie Bartley told me that if I really wanted to call it a Big Year, I had to go to Arizona, the Rio Grande Valley of Texas and Alaska. How could I possibly do that while working full time and I really had zero spare dollars in my bank account?
     Well, it turns out if you are obsessive and determined enough, you can make a good stab at it. At the end of 2012 I was thousands of dollars in debt but had seen 600 species. Last year I completed a Canada big year. I counted 457 species tying the all-time record.  And if that darn Limpkin had just flown far enough across the Niagara River into Canadian airspace, I would have had the all time record. Woe is me. But if "Ifs and buts…" as my mother used to say.  However, in Ontario in 2022, one young man did break a record.
    Kiah Jasper, at the age of just 20 - I'm 63, so yeah, just 20 - broke the all time record for an Ontario big year. He traveled thousands of miles, sometimes in terrible weather and on roads no birder had ever been to in the farther northern regions of Ontario, which put it into perspective, has a larger area than Texas.
     When it was all said and done, Kiah had seen 359 species, blowing by the previous record of 343 species set in 2017. So, it's not a coincidence that Kyah is the final guest on my five part series on the Birders of the Ontario 2022 Big Year.  I am grateful to Kiah for re-recording this episode after a couple of glitchy recordings, early in the year, made it nearly impossible to hear.  My fault entirely and perhaps I should have fired myself on the spot.  But, now it is finally finshed and this is the result of all that hard work and perseverance, just like, well, doing a Big Year.
     Please.  Finally.  Enjoy.