Episodes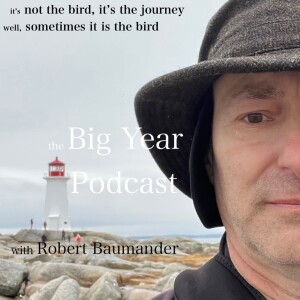 Wednesday Mar 08, 2023
Wednesday Mar 08, 2023
On today's episode we talk to Christian Hagenlocher.  At the age of 26 he did his 21st century version of a Big Year on a budget,(a tight budget), and saw 752 species. He was the youngest birder to ever pass 750, making it an even greater accomplishment. 
Christian is creator of The Birding Project and author of the book, Falcon Freeway: A Big Year of Birding on a Budget. You can find it on Amazon,(link below).  He is now a middle school teacher in Washington State and recently returned from an Antarctic adventure. 
Christian and I met on a wild goose chase for a Barnacle Goose in the winter of 2016, and were also at the scene of a Zenaida Dove in Florida, but didn't know the other was there.
Join me as we reminisce about our adventure in 2016, each doing our own Big Years.
Next episode, we will delve into Ontario Big Years with my guest, Kiah Jasper, whose episode is delayed because I screwed up.  Sorrr about that.
https://www.amazon.ca/Falcon-Freeway-Year-Birding-Budget/dp/1543985033