Episodes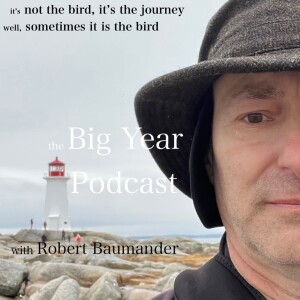 Monday Apr 03, 2023
Monday Apr 03, 2023
I met Karen Miller on Canada Day in 2022.  I was running out of options to get close enough to Bill's Island, off of Grand Manan, New Brunswick, so I could see American Oystercatchers.  If the ferry had not been late, I'd have never met Karen and her husband Bill, who had been ferrying birders out to the island all day, to see these rare visitors to Canada.
Then, on December 21 I was given an early Christmas present, in the form of a Green-tailed Towhee, another crazy-rare bird to show up in New Brunswick,(all that on top of the Stellar's Sea Eagle, just three weeks earlier).  It was there in Sackville, that I ran into Karen and Bill again, at first not realizing they were the friendly birders who took me out on their boat.
Another friend, Mitch Doucet, told me she had the record for New Brunswick Big Years.  We chatted a bit that December afternoon, after seeing the towhee, and I wanted to get to know more about her life in birding and her amazing, record setting New Brunswick Big Year.
Recently she joined me for an afternoon of conversation about birds and fond memories of her Big Year.
Enjoy!