Episodes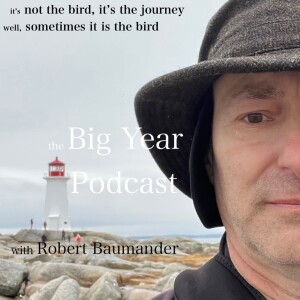 Monday May 01, 2023
Monday May 01, 2023
Today is May 1, 2023 and it is the official start of Spring Migration here in Southern Ontario.  Birders from far and wide, some doing their own Big Years, are beginning their own migration to Canada's spring birding hotspot, Point Pelee National Park to welcome the songbirds home.  Down in Ohio, many birders will be making their way to The Biggest Week in American Birding.  Sue and I had to cancel our last trip there, as the Covid Pandemic Lockdowns were just being felt in the spring of 2020.  
Down in Texas, the "winged" migration begins a little earlier, and in fact, my guest today, Laura Keene, had just seen her first Golden-cheeked Warbler of the year just before we spoke in early April , a beautiful song bird that sadly will likely never make it's way up north.  Of course, who knows during migration season.  We just had White Wagtail here in Ontario, we can always hope.
In 2016, inspired by a close friends battle with cancer, Laura began her own journey across North America, doing a photographic Big Year, recording a record breaking 763 species in the Continental US, and adding more birds in Hawaii to finished with 815 species, the vast majority of which she photographed, an achievement in itself.  
Laura's story of doing a Big Year is as inspiring as it is exciting, and  listening to her I'm sure you might just want to rush out and do your own Big Year.  I'm certainly inspired to do anther one.  Maybe, it being May 1, perhaps a Big Migration Month. 
Laura, even 6 years after her Big Year ,is still 4th all time for the Continental US and 7th, one behind Yve Morrel. But it's not where you are in the standings or how many birds you've seen, but as Laura has said, the places you've been and the birders you've met along the way that really adds meaning to the lists we make on our Big Year Journeys.