Episodes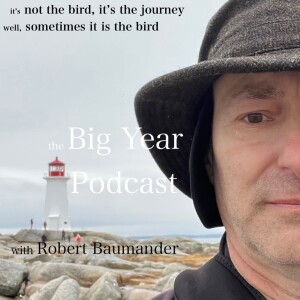 Friday Jun 02, 2023
Friday Jun 02, 2023
The month of May in Southwestern Ontario is all about songbird migration and seeing as many warblers as possible.  I knew I wasn't going to have time to edit previous podcasts and, naturally, no birders were going to have time to do sit down interviews that may cost them a Big Year Bird or Lifer, or just a skulking Mourning or Worm Eating Warbler.
So, instead, I took my recording device on the road to Point Pelee National Park, Long Point and Rondeau Provincial Parks and City View Park in Burlington, Ontario.  I walked up to birders I have never met and birders I have known or at least seen on the trails and asked them what lit the fuse that sparked their burning passion into birding.
For me, the event For some it was seeing the movie "The Big Year" and the spark birds were the Nutting's Flycatcher and The Pink-footed Goose that bookended the movie.  I saw both over the next 12 months in 2012.
For some people, it was an event and for others it was a specific bird. Join me for this special episode, where we will meet birders who found their passion because of some descendants of the dinosaurs evolved into the birds we see and love today.
Sit back, relax and perhaps you will have fond memories of the bird that sparked your interest in birding.