Episodes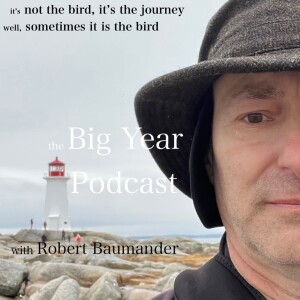 Wednesday Aug 02, 2023
Wednesday Aug 02, 2023
Welcome to Part 3 of my 5 episode series on the birders of the 2022 Ontario Big Year.  Three birders broke the all time record, including William Konze, who didn't even set out to do a Big Year, let alone break the record.  Though he didn't end up on top, his accomplishment is still a testament to his dedication and hard work.
Travel in Ontario, which is even bigger than Texas, can be exhausting, sometimes chasing birds hundreds of miles away, driving 6 to 8 hours and in severe winer weather.  If you're planning on doing an Ontario Big Year in the coming years, hearing the stories of Susan, Andy, William, Ezra and Kiah will give you a sense of what it takes and how much you can learn while competing to be the top birder in the province.
So, sit back, relax and enjoy another episode of The Big Year Podcast.  Unless you're driving.  In that case, pay attention to the road and enjoy the show.