Episodes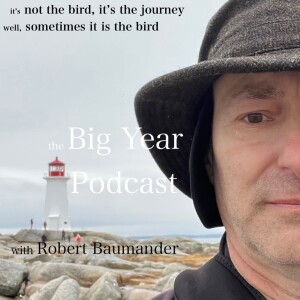 Tuesday Oct 31, 2023
Tuesday Oct 31, 2023
Welcome to Episode 12 of The Big Year Podcast.  
For those of you here for the first time, my name is Robert Baumander, but I spent 41 years as Captain Video for the Toronto Blue Jays.  Along the way I performed as a magician and Escape Artist, managed the computer system for Pizza Pizza, volunteered in elementary schools and The Hospital for Sick children doing magic and story telling and science classes.  I have done a variety of Big Years in North America since I became a birder in 2012, and now spend my time, since my Canada Big Year in 2022, hosting this podcast and writing about my adventures in birding and my travels across Canada and North America.
This is part one of my chat with Tiffany Kersten, who's resume sounds like that of the Dos Equis guy. I'll let her tell you about her many accomplishments and some of the other, shall we say, more eclectic endeavours that have kept her busy over the years.  Suffice it to say, my resume doesn't even come close to stacking up against hers and I have been compared to the Dos Equis guy.
We had such an enjoyable and wide ranging conversation that I have had to divide it into two episodes. Her 2021 Lower 48 Big Year, where she broke the all time record  with 726 species, took place in the midst of some challenging events in her life, as an unemployed single home owner during the Covid-19 pandemic, which lost her a spot on American Ninja Warriors.  Really.
With all that being said, please enjoy Part One of my conversation with Texas birder Tiffany Kersten.