Episodes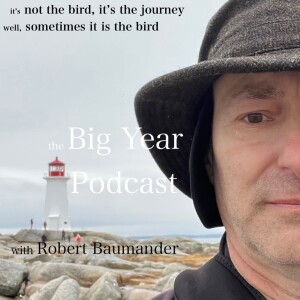 Wednesday Feb 15, 2023
Wednesday Feb 15, 2023
Episode 2 of the Big Year Podcast features Yve Morrell.
I first met Yve Morrell in 2017 during her Big Year.  I had flown down to Texas to search for a Jabiru.  A bunch of us, including Yve, searched in vain for it for most of the day.  Many of us did get a Black Rail that day, so it wasn't a total loss for ether of us.  
What we didn't know at the time is we were both booked on a pelagic with Debbie Shearwater in Californian and met again on the boat.  The highlight of the trip, for me, was a Blue-footed Booby.
My other reason for going to California, after Texas, was to finally see the California Condor.  I had looked for it in 2012 at what was then Pinnacles National Monument, but had no luck that day.  I mentioned to Yve that I was going and she met me there for the long hike up the mountain at the newly renamed, Pinnacles National Park, to find them.  
Yve continued on with her Big Year and eventually saw species 816, the Loggerhead Kingbird in Florida, giving her top spot for the 2017 ABA Big Year. 
You can find Yve at her website thedancingbirder.com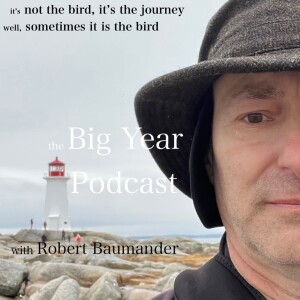 Sunday Jan 29, 2023
Sunday Jan 29, 2023
Episode 1 of The Big Year Podcast features Sandy Komito, who twice broke the ABA Big Year birding records in 1987 and again in 1998.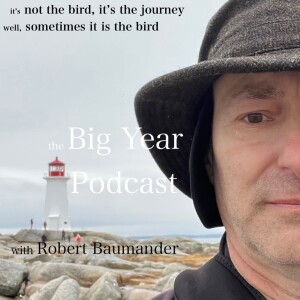 Wednesday Jan 25, 2023
Wednesday Jan 25, 2023
The Big Year Podcast, begins January 30, 2023.
Having just completed a Canada Big Year in 2022, birding across the country for 365 days and seeing 456 species, I am now putting my obsessions, ahm, efforts into talking to the birders of the Big Year.
Birders who have had the same commitment,(some should be committed according to their spouses), to see as many birds as possible in a local county, Provence, State, country, or the biggest of Big Years, in the ABA,(American Birding Association), Area.